On arXiv: Two-qubit logic with anisotropic exchange in a fin field-effect transistor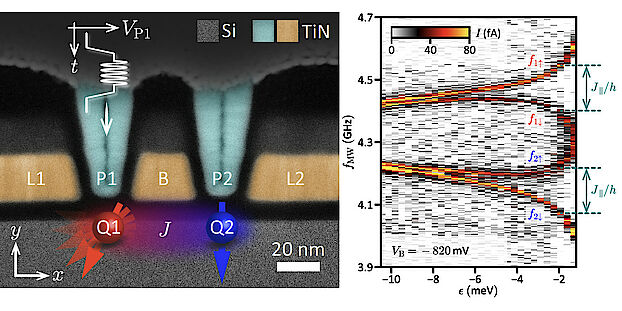 Semiconductor spin qubits offer a unique opportunity for scalable quantum computation by leveraging classical transistor technology. Hole spin qubits benefit from fast all-electrical qubit control and sweet spots to counteract charge and nuclear spin noise. Here, we demonstrate a highly gate-tunable exchange interaction with striking magnetic field anisotropy. We present a model with a strong spin-orbit interaction giving a 90 degree spin rotation for tunneling between dots, achieving very good agreement with the experiment. The exchange anisotropy can be exploited to minimize the unwanted perpendicular exchange terms which lead to two-qubit (2Q) gate errors while keeping the longitudinal component strong. This makes possible high speed 2Q gates without loss of fidelity – a gate time of 24 ns is achieved – which can be realized over a wide range of magnetic field orientations rendering the concept robust with to variations from qubit to qubit. Our work brings hole spin qubits in silicon transistors a step closer to the realization of a large-scale quantum computer.
Experiments done in our lab, lead by Andreas Kuhlmann, in collaboration with the Loss Group at the University of Basel, and Andreas Fuhrer at IBM Research - Zurich, supported by NCCR SPIN of the Swiss NSF.
Two-qubit logic with anisotropic exchange in a fin field-effect transistor
arXiv:2212.02308, manuscript pdf